Growing Energy Efficiency
Harmony Farm Supply and Nursery is literally growing money on trees with energy-efficiency improvements. Like many small businesses, Harmony Farm Supply and Nursery relied on high bay metal halide lighting fixtures and outdated T-12 fluorescent lights that consumed large amounts of energy. Business owner David Henry wondered what he could do to reduce energy costs. He contacted the Small Business Energy Alliance (SBEA), an organization that used energy efficiency funds from the California Public Utilities Commission to help small business owners save energy and money. SBEA subsidized energy efficient lighting retrofits and air conditioning tune-ups for small businesses in Northern California.
What Actions Did Harmony Farm Take to Save Energy?
Working with the SBEA, Harmony Farm conducted a comprehensive lighting upgrade. High-bay metal halide lamps were replaced with ultra-energy efficient T5 lamps, electronic ballasts, and aluminum specular reflectors. These changes immediately cut energy consumption in half. Older T12 fluorescent lighting systems with magnetic ballasts were replaced with energy efficient T8 fluorescent lamps and electronic ballasts. The facility's heating and cooling systems were upgraded with an Energy Star qualified programmable thermostat. This comprehensive package, after subtracting financial incentives from the SBEA, cost the owners of Harmony Farm Supply $3,000.
What Action Did Harmony Farm Take to Use Green Energy?
As a dealer of photovoltaic panels, Harmony Farm Supply and Nursery implemented what they sell and installed a 37 kilowatt solar array. This array is generating more than 53,000 kilowatt hours of clean energy each year. Harmony Farm Supply and Nursery's energy efficiency and renewable energy efforts collectively save more than $7,000 a year and prevent the emission of 38 tons of carbon dioxide annually. This is equivalent to the CO2 emissions from 3,913 gallons of gasoline consumed.
"We have more light than before, the light is natural looking and we cut our energy usage by almost 25 percent." - David Henry, Harmony Farm Supply and Nursery Owner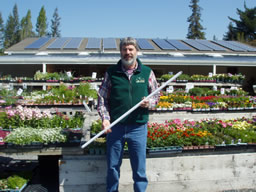 Harmony Farm Supply and Nursery
3244 Gravenstein Hwy North
8,000-square foot nursery, store and photovoltaic (PV) panel retailer.
Actions to Save Energy and Use Green Energy
High-bay metal halide lamps replaced with T5 lamps, electronic ballasts, and aluminum reflectors
T12 fluorescent lighting replaced with T8 fluorescent lamps and electronic ballasts
Heating and cooling systems upgraded with Energy Star qualified programmable thermostat
Installed a 37-kilowatt solar array
Renovation Cost
$3,000
(Cost partly offset by the Small Business Energy Alliance)
Estimated Yearly Cost Savings
Estimated Yearly Greenhouse Gas Emission Reductions