Taking Advantage of the Sun's Rays
"The Lobster" Restaurant in Santa Monica has long been an unofficial historical landmark, almost as recognizable as the entrance to the Santa Monica Pier.
As part of its 2008 effort to "go green", the restaurant hired SunTechnics to install 54 solar panels on its south-facing roof as part of Solar Santa Monica's solar program. Because aesthetics were essential, installer SunTechnics clamped the solar panels (photovoltaic modules) on the seams of the south-facing roof, avoiding penetrations and following the original curvature. The new solar system covers about 10% of the restaurant's electricity load. "The system is small, but we wanted to do all we could with the space we had," said general manager Jack De Nicola.
How Much Did the Solar Installation Cost For The Lobster?
The solar system cost approximately $65,000. General Manager Jack De Nicola expects that rebates and tax credits will bring the total cost down to about $20,000. He estimates the cost will be recovered through energy savings in about six years.
What Actions Did The Lobster Take to Cut Waste?
In addition to the solar installation, The Lobster has implemented a number of green practices, in part driven by its participation in the Santa Monica Green Business Program. Some of these practices include keeping lights off and using natural daylight in the dining area. The Lobster diverts 50% of its waste to the landfill through an on-site recycling and green purchasing program, and they installed ultra-low flow flush-o-meter toilets in the restaraunt. The Lobster continues to support alternative transportation to work by installing bike racks and selling discount bus passes to the public.
What Actions Does The Lobster Hope to Take in the Future?
Looking forward, the next sustainable project in store for The Lobster's future is the replacement of the restaurant's hot water heaters with a solar hot water heater.
The Lobster has played a big role in turning the Santa Monica pier into a greener, more energy efficient destination for visitors to enjoy.
"What we need to do as a city, as a state, as a country is to try to reduce our dependence on (non renewable resources)." - Jack De Nicola, General Manager of The Lobster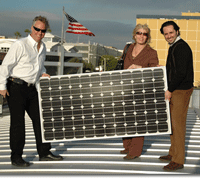 A seafood restaurant at the entrance to the Santa Monica Pier that utilizes solar panels and is a certified-green business.
Actions to Cut Waste & Use Renewable Energy:
Installed 54 solar panels on its south-facing roof
Keep lights off and use natural daylight in the dining area
Encourages alternative transportation to work via installation of secure bike racks and discount bus passes
Diverts 50% waste to the landfill through on-site recycling and green purchasing
Installed ultra-low flow toilets
Sells discounted bus passes to the public
Solar Panel Installation Renovation
$ 20,000
(~6 year payback period)