Sustainable Dining in the Bay Area
Stanford's Restaurant, located in downtown Walnut Creek, has challenged themselves to be a community leader and provide other restaurants with a sustainable business model by showing a commitment to both helping the environment and remaining profitable. Stanford's is a full service restaurant and bar with sales over $4 million annually.
Stanford's has focused on conservation, reducing trash and eliminating excess waste. The restaurant uses energy efficient light bulbs throughout the building and has installed flow restrictors on all faucets to reduce water use. They also use a drip irrigation system to water their plants and landscaping, reducing water waste. Stanford's recycles 100 percent of their aluminum, glass, plastic and cardboard. They also donate 100 percent of their used oil to be converted into biofuel. The oil donation saves Stanford's $50 per month in disposal fees and is reused as fuel, making it a cost-savvy and eco-friendly action. The total amount of trash produced decreased from 20 cubic yards per week to just eight cubic yards, saving Stanford's Restaurant thousands of dollars in garbage disposal fees.
Employee commitment to the environment is important to Stanford's Restaurant. All employees and managers are trained on the company's recycling procedures and their progress is monitored daily. Stanford's also hosted an Earth month contest for employees, encouraging them to take alternative transportation as they commute to work, like bicycling or taking public transportation. In one month, Stanford's reduced 1,500 miles from employee travel alone.
Stanford's is a member of the Bay Area Green Business Program and is a Certified Green Business by Contra Costa County. They also received a certificate from Supervisor Nejedly Peipho of Contra Costa County for their stewardship to the environment and dedication to the community.
Stanford's Restaurant remains committed to protecting the environment through sustainable business actions. They hope to act as a leader in Walnut Creek to help other like-minded businesses take steps to become good stewards of the environment and the community.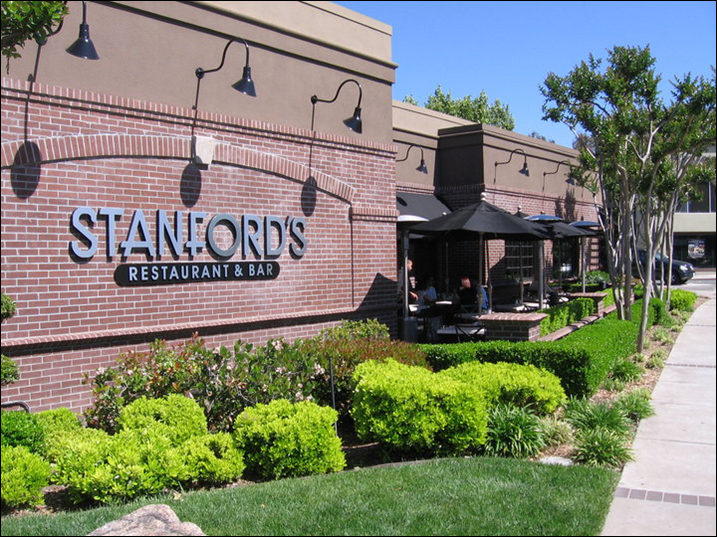 Stanford's Restaurant waters the plants and landscaping with a drip irrigation system to reduce excess water use.