Eco-minded Café and Bakery
The Rising Loafer Café and Bakery's mission is to "contribute to the well-being of their community." Their breakfast and lunch menus are prepared with locally grown ingredients to help reduce the business' carbon footprint and support the local economy. They also started a back-business garden and are a certified Bay Area Green Business.
The Rising Loafer Café and Bakery has reduced their waste over 80 percent by recycling, reusing, and refurbishing materials. They banned StyrofoamTM products and use "real" plates and silverware instead. All animal fats, plastics, cardboard, cans and glass are recycled and tables are made out of old doors. The Rising Loafer installed low flow faucets and toilets and uses energy and water efficient appliances. They also replaced light bulbs with energy saving units and installed timers on equipment.
The owners are recognized leaders in sustainability and regularly share their green restaurant knowledge and experience with other businesses in the community. They are also training young adults in environmentally-friendly operation of restaurants by partnering with the Job Corp of America and the Berkeley Youth Alternative to offer internships.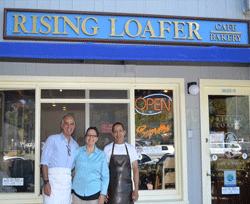 3648 Mt. Diablo Blvd, Suite B
The Rising Loafer is an eco-minded café and bakery serving traditional sandwiches and Mediterranean specials.
Green Practices:
Banned Styrofoam® products
Recycling practices have reduced trash by 80 percent
Tables are made from old doors
Eliminated the use of toxic cleaning products and clean all sinks, grill, hood with white vinegar and baking soda