Sustainably Packaged to the Tea
When brother and sister team Ahmed and Reem Rahim began Numi tea in 1999, they made a conscious choice to create a business based on sustainability. Over ten years later, their vision is a strong reality and Numi Organic Tea prides themselves in "closing the loop." All of Numi's raw tea and herb materials are 100% biodegradable, and all of Numi's raw materials are fully utilized in the production process and are transported in reusable cardboard cartons. Numi recycles all plastic wrap, cardboard and wood materials that are used in conjunction with the transportation and storage of products. Numi uses post-consumer waste content materials in all facets of its operations and makes a conscious effort to recycle and cut waste. In 2008 their efforts saved their company $78,500 and prevented 235 tons of harmful carbon dioxide emissions from entering the atmosphere.
What Actions Did Numi Take to Cut Waste?
Numi's cardboard packaging materials are made of 100% recycled material made of a minimum of 85% post-consumer waste. The tea boxes annually conserve more than 5,202 trees and reduces landfill usage by 334,560 pounds. Their shipping boxes are made of 85% recycled material, and they only accept shipments that use recycled wood pallets. Numi has in-house recycling and composting practices in place to further reduce company waste. When hired, each new employee is trained in how to promote environmentally-friendly practices.
What Actions Did Numi Take to Buy Green?
Each of Numi's tea bags are biodegradable and made from natural fibers, unlike many companies that use synthetic materials. Numi doesn't follow the trend of using "silky," see-through bags, as they typically are made from nylon or GMO cornstarch, which is neither organic nor sustainable. In an effort to create more sustainable packaging, Numi uses bamboo in gift boxes, tea chests and merchandising. Bamboo is an organic, earth-friendly material known for its strength and fast re-growth. In 2007, Numi switched to soy-based inks for the printing of retail cartons and other printed collateral. Petroleum-based inks are not environmentally- friendly and are more difficult to recycle.
What are Numi's Cost-Savings?
In 2008, Numi had a total annual savings of $78,500 through its efforts toward waste reduction, reuse, recycling and composting efforts. This figure was determined (1) by the reduction in purchases due to reusing cardboard boxes, pallets and other packaging materials, (2) the savings from reducing the weight of packaging materials; (3) the conversion of products to a new paper mill that can more cost-effectively produce 85% post-consumer waste cardboard packaging.
Numi Organic Tea has played a big role in turning the tea business into a greener, more sustainable, more thriving, and more environmentally-friendly practice.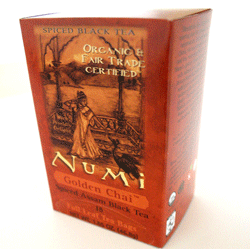 Organic tea company committed to operating a sustainable business through ethical sourcing, ecological packaging and core values that support the health of people and the planet.
Actions to Cut Waste & Buy Green
Uses post-consumer waste content material in packaging, marketing and office supplies
Uses 100% recycled cardboard packaging
Uses natural, biodegradable tea bags
Uses bamboo in gift boxes and merchandising
Uses soy-based inks instead of petroleum
Uses recycled shipping pallets
Recycles and composts in-house
Estimated Yearly Cost Savings
Estimated Yearly Greenhouse Gas Emission Reductions
235 tons of CO2 (in 2008)
Words From the Co-Founder
"We have a commitment to the authenticity of teas and herbs. I also think that our overall 360 degree commitment to sustainable values and community comes through."
-Ahmed Rahim, Numi Organic Tea