Low-Carbon Cable Manufacturer
Nortra-Cables, Inc. offers custom cable and wire harness design, prototyping and manufacturing services for medical, computer, communications, industrial and electromechanical applications, and is constantly striving to reduce its carbon footprint.
Nortra-Cables, Inc. started a simple plastic recycling program that quickly grew to incorporate paper, corrugated cardboard/shipping materials and scrap metal recycling (including copper, polyvinyl chloride insulation, etc.). The cost savings from recycling are used to pay for holiday parties and other employee benefits. With no noticeable loss of brightness, they updated their lighting ballasts and used more efficient T8 fluorescent lights, resulting in a cost savings of about $14,700/year (a 40 percent annual savings and a 4 month return on investment). Nortra-Cables replaced 24 toilets and faucets with low flow devices at no cost by participating in California Green Initiatives and Santa Clara Valley Water District incentive programs.
Nortra-Cables is an industry leader as a certified California Green Business. They also follow various programs to ensure manufacturing accountability for hazardous chemicals and metals.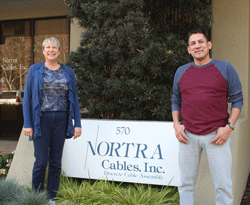 Nortra-Cables Inc. is a custom design, prototype and manufacturing facility producing wire harnesses.
Energy Efficiency Renovations:
Switched to T-8 fluorescent light balasts, reducing their energy use by 40 percent
Programmed PCs and mechanical systems to automatically power down during low usage or inactivity
Green Practices:
Nortra-Cables is a "Spare the Air" employer and notifies employees of bad air quality days
Replaced 24 toilets and faucets with low-flow fixtures, at no cost to them
Travel is scheduled so multiple tasks can be accomplished with one trip
Established a formal, written employee recycling program
All cleaning supplies have been replaced with environmentally-safe products
Total Savings:
Approximately $14,700 in electricity costs