Partnering for Waste Reduction and Conservation Efforts
Manhattan Bread & Bagel is a café and bakery that makes gourmet bagels, crafts artisan breads, and offers wonderful food for any occasion. They are known in the Los Angeles South Bay for providing fresh, high quality baked goods and partnering with local entities to achieve exceptional waste reduction and conservation results.
Manhattan Bread & Bagel partnered with the Manhattan Beach Waste Management Food Waste Pilot Program, where recycling experts worked with their establishment to create a customized recycling program and trained staff to ensure success. Manhattan Bread & Bagel also contracted with Recycling to Conserve, the leading nationwide recycling company of bakery and cereal grain by-products. Recycling to Conserve turns leftover breads, bagels, dough scraps, egg shells, and coffee grinds into feed for local dairy cows. Furthermore, Manhattan Bread & Bagel has local charities periodically pick up unsold baked goods.
Coupled with their waste reduction partnerships, Manhattan Bread & Bagel uses recycled paper and recycled plastic service ware, and posts signage for customers to recycle these items when finished with meals. They purchase plastic containers from Bottle Box, a company that makes products from recycled water bottles. In doing all this, Manhattan Bread & Bagel has cut down on 40% of their total waste stream, changed trash pick-ups from five days per week to one day per week, and alternatively, increased recycle pick-ups from one day per week to four days per week (saving $230 a month on trash service fees).
Manhattan Bread & Bagel participated in Southern California Edison's Direct Install Program. This included installing light occupancy sensors in storage and bathroom areas, a new LED exit light, T5 florescent bulbs, upgraded refrigeration gaskets, and LED MR16 light bulbs. These actions resulted in a 40% savings on the lighting cost portion of their monthly utility bill. To add to their energy savings, Manhattan Bread & Bagel installed a direct fire tankless water heater to reduce its natural gas use. Moreover, they installed new insulation and sealants by the storefront windows to save on heating and cooling costs. The cost of installation was $450 and they are now saving up to $15 per month.
Some of their additional extraordinary efforts include continued self-evaluation of sustainability efforts, participating in the local community, and spreading environmental awareness. They have quarterly staff meetings to discuss their recycling programs and potential improvements. They are a participating Blue Zones Project Restaurant, a program which gives customers more options to make healthier choices, and a certified California green business. They have participated in local Earth Day events and handed out information on their conservation and recycling efforts. Their business has helped eight other neighboring businesses to recycle more, resulting in a 50% increase in recycled materials being picked up at their strip mall location. Manhattan Bread & Bagel was honored with a SoCal Environmental Excellence Development (SEED) Award by the South Bay Business Environmental Coalition in 2013.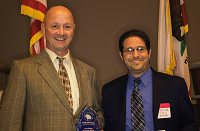 Manhattan Bread and Bagel
207 McPherson Street, Suite B
Manhattan Beach
,
CA
90266
Manhattan Bread & Bagel is a café and bakery that sells sandwiches, soups, and over 100 different baked goods each day.
Green Actions:
Implemented food waste recycling program
Installed light occupancy sensors in storage and bathroom areas
Switched to high recycled content paper for office invoicing and paper needs
Banned all polystyrene from purchasing inventory
Uses organic cleaning products
Cost Savings:
$230 per month saved on trash service fees by changing trash pick- up from five days per week to one day per week, and alternatively, increasing recycle pick-ups from one day per week to four days per week
$25 per month saved on gas bill by installing a direct fire tankless water heater
$15 per month saved after spending $450 to upgrade storefront insulation
40% per month saved on utility bill by upgrading lighting fixtures