A Business Built on Composting and Waste Reduction
Waste Less Living is an environmental consulting firm with a passion for waste diversion and composting. Located in Pasadena, California, Waste Less Living provides eco-friendly event planning services, zero-waste consulting, green school programs and much more.
To provide the best services to clients, all new employees of Waste Less Living must complete a four-week training course about waste and its adverse impacts on the environment. This allows employees to explain and educate clients on the impacts of waste and the need for conservation. Waste Less Living also works with schools helping to implement waste diversion programs. They provide expert education, training, management and the infrastructure development needed to help schools achieve a waste diversion rate of up to 90 percent while engaging students in the process. These efforts also help educate teachers as well as students on a higher level, as they are helping to take measureable steps within their own school.
Waste Less Living has also implemented green office practices. Since opening in 2008, Waste Less Living has used paperless invoices and transactions, and purchases refillable ink cartridges and recycled content paper and prints double-sided. All used paper is recycled or composted. The company purchased low-emission vehicles for staff use during deliveries and employees are encouraged to telecommute whenever possible to further reduce vehicle emissions.
Since 2008, Waste Less Living has helped capture and divert over 40,000 lbs. of organic waste from the landfill and sent it to compost. Owner, Christine Lenches-Hinkel, estimates that from 2008-2010 their carbon reducing efforts saved over 5,000 lbs. of CO2 from being released into the atmosphere.
Waste Less Living is committed to educating the community about the detriments of waste and the easy steps that can be taken to avoid it. Waste Less Living serves as a model business in Pasadena and has received recognition from the city of Pasadena for their recycling efforts, the Los Angeles Regional Agency in Recognition of Environmental Excellence, Senator Carol Lui's Small Business of the Year Award and more.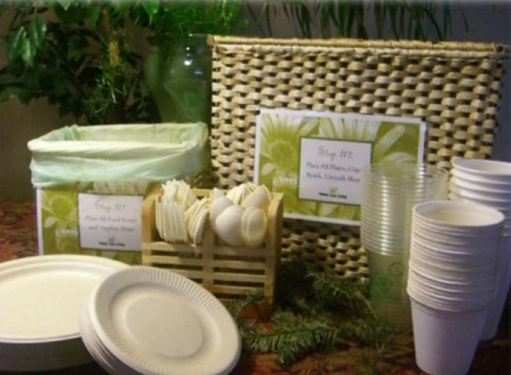 Waste Less Living offers cups, plates, and utensils to clients that are 100 percent biodegradable and compostable, offering a more eco-friendly alternative to Styrofoam and plastic.