Eco-Friendly Exercise
UPDATE: FACILITY IS NOW CLOSED. BUT READ BELOW TO LEARN ABOUT THEIR GREEN BUSINESS ACTIONS. (AUGUST 2016)
In this Davis yoga studio, exercising is good for both you and the environment. The Bo Tree was created in 2002 by Teri Bowen as a green yoga studio and has expanded into green consulting. The Bo Tree actively promotes eco-living practices in the business community and is committed to actions that minimize environmental harm and maximize environmental benefit.
What Actions Did The Bo Tree Take to Build Green?
After spending five years in an industrial building, Bowen decided to create a green studio for The Bo Tree. Finding a downtown location in Davis was very important to encourage biking and walking to class. When Bowen found a space downtown, she created the most beautiful, healthy space she could imagine: cork floors, paints without volatile organic compounds (VOCs), bamboo and recycled wheat board cabinets, low voltage halogen and fluorescent lighting and counters made from crushed sunflower hulls. Her studio, finished in June 2007, is the first green yoga studio in Northern California. The renovation cost was approximately $30,000. The landlord contributed about half of the funds and the remainder was financed by Bowen.
What Actions Has The Bo Tree Taken to Reduce Waste?
The Bo Tree encourages yoga students to bike to yoga (free mat use for bikers) and they print schedules and flyers on recycled paper (much of the scheduling and receipts are done online). They recycle waste paper, bottles and cans (plastic water bottles are highly discouraged), and use low-wattage, full-spectrum light bulbs. The studio uses beeswax, soy or other non-petroleum candles and washes yoga mats with essential oils. They use cloth towels instead of paper and fair-trade hand soap in the bathroom. Towels are washed in organic, fair trade soap and only non-chemical cleaning supplies are used (vinegar and baking soda).
What Actions Has The Bo Tree Taken to Conserve Resources?
The Bo Tree sells retail items that are sustainable, non-toxic and fair-trade and buys products made from sustainable, recycled or re-used materials. The Bo Tree stopped all of their junk mail through an organization called www.greendimes.org. The Bo Tree estimates that its green practices and choices result in a savings of about $1000 per year.
What Actions Has The Bo Tree Taken to Offset its Carbon Emissions?
Bowen investigated ways to become carbon neutral; she concluded that planting trees was the most cost-effective way to take CO2 out of the atmosphere. She chose to support Trees for the Future. This organization plants trees in India, Indonesia, and Africa for 40 cents per tree. In 2008, The Bo Tree's CO2 emissions from electric usage and travel were approximately 8 tons. Bowen believes she made her business "carbon neutral" through TFTF's "Adopt a Village" program by planting 5000 trees for $480.
How Have The Bo Tree's Efforts Been Recognized?
The Bo Tree was certified as a sustainable business by the Sacramento Sustainable Business Program in January 2008.
The Bo Tree has helped make exercising healthy for both customers and the planet.
"Being green means not only being aware of our impact on the environment, but taking action to change it. The greening of my business has taught me to be more efficient. It has also saved me money and time." -Teri Bowen, The Bo Tree Owner and Founder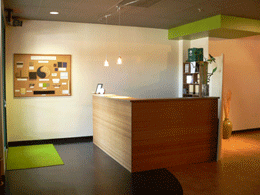 A 1500-sq. ft. green yoga studio that encouraged an environmentally friendly approach to exercise and everyday living.
Actions to Build Green & Be a Green Business:
Uses natural building materials
Recycles waste paper, bottles and cans
Uses low-wattage, full-spectrum light bulbs
Uses non-chemical cleaning supplies
Uses cloth towels instead of paper
Buys products made from sustainable, recycled or re-used materials
Encourages walking and biking to classes