Keeping it Cool
Stater Bros., is a privately owned supermarket chain in Southern California with facilities in six Southern California counties and has a long standing focus on reducing refrigerant use. Although Stater Bros. is not a small business, small businesses can learn from their refrigerant best management practices.
Stater Bros. operates with a focus on reducing refrigerant use based on a Refrigerant Compliance Plan. The plan is to maintain compliance, but goes much further. The goal is to implement and update environmentally responsible procedures for refrigerant management to conserve all high-global warming potential (GWP) refrigerants through leak detection, timely equipment repairs, and refrigerant recovery.
Stater Bros. has a long standing focus on reducing refrigerant use. From 2001 to 2008, the company-wide refrigerant leak rate was reduced from 24.1 to 12.5 percent. In 2006, Stater Bros. instituted new standard operating procedures and started refrigerant record keeping and monitoring through a refrigerant auditor program that provides a more complete understanding of refrigerant usage.
What Refrigerant Best Management Practices Does Stater Bros. Use?
Stater Bros. maintains a written refrigerant management plan and maintains an in-house certified technician staff. They use automatic leak detection systems set to detect refrigerant at 200 parts per million (ppm) – significantly lower than the 1,000 ppm required for employee safety for many commonly used refrigerants. Additionally, they conduct monthly, store-wide refrigerant leak inspections and annual refrigeration system audits. For new refrigeration systems and upgrades, they conduct leak tests on all new refrigeration systems prior to being fully charged and placed into service and installs and retrofits refrigeration equipment to minimize refrigerant charges.
What are the results of Stater Bros.' Refrigerant Best Management Practices?
Stater Bros. reduced high-GWP refrigerant usage company-wide from 63,000 pounds in 2004 to 36,000 pounds in 2008; at $10 per pound of refrigerant this is an estimated annual savings of $270,000. This also equates to greenhouse gas emission reductions of up to 18,000 metric tons of carbon dioxide equivalent (MTCO2E). This greenhouse gas reduction estimate is based on reduction of 27,000 pounds of R-22. From 2004 to 2008 Stater Bros. refrigerant usage was reduced by 43% company-wide.
What other actions does Stater Bros. take to improve the environment and reduce greenhouse gas emissions?
In September 2008, Stater Bros. opened for business their new refrigerated distribution center with a focus on energy efficiency and creating the supermarket industry's shortest average miles traveled for store deliveries of 41 miles. Stater Bros. reduces green waste through a composting program resulting in the composting of 1,600 to 1,900 tons of green waste per month.
Stater Bros.' refrigerant plan mission is to be committed to providing a safe and environmentally- friendly company for its customers, employees, vendors, and community by complying with all environmental regulatory requirements. In doing so they provide a positive model in refrigerant best management practices and significantly reduce greenhouse gas emissions.
"At Staters we always say... do the right thing for the right reason." - Jack H. Brown, Chairman and CEO, Stater Bros. Markets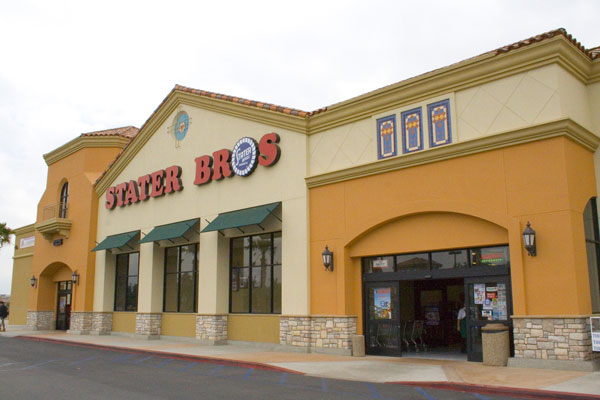 The largest privately owned supermarket chain in Southern California with facilities in the six Southern California counties of San Bernardino, Riverside, Orange, Los Angeles, San Diego, and Kern.
Business & Refrigerant Management Snapshot
Annual Sales of $3.77 billion (in 2009)
Operates 167 full service supermarkets
Maintains over 1,800 refrigeration and air-conditioning systems with a combined refrigerant charge of 291,000 pounds
Achieved a company-wide refrigerant leak rate of 12.5% (in 2008)
Environmentally Friendly Actions
Reduced high-GWP refrigerant use
Conducts monthly leak inspections and annual refrigeration system audits
Reduced Vehicle Miles Traveled (VMT)
Participates in a composting program
Estimated Annual Refrigerant Cost Reductions
Estimated Annual Greenhouse Gas Emission Reductions