Green Designed Hotel
The Seven4One Hotel was built with the purpose of creating an environmentally sustainable hotel and reducing the carbon footprint of each guest. The management and staff at Seven4One are dedicated to improving their environmental performance by establishing precise "green" hotel and general business operational policies and procedures. Seven4one is a proud member of the EPA Waste-Wise Partnership and the Green Hotel Association of America. To create a "green" hotel, every aspect from building and infrastructure to hotel operations had to be carefully evaluated.
What Actions Did Seven4One Take to Save Energy?
Seven4One installed certified tank-less water heaters, long life low-wattage fluorescent and LED lighting, Milgard energy efficient windows and Lutron Grafik-Eye lighting sensors and timers for common areas and the hotel exterior. The hotel also makes use of EnergyStar appliances whenever possible and uses Eco-wise custom made mattresses from Sterling Sleep Systems.
What Actions Did Seven4One Take to Conserve Water?
Seven4One planted native and low-water-use plants and landscaping around the hotel to conserve water. The hotel conserves water on a daily basis by using filtered water stations, water pitchers and reusable personal water carriers. The hotel uses Toto Aquia Water Sense low flow dual flush toilets, low flow showerheads and sink aerators to save water.
What Actions Did Seven4One Take to Cut Waste?
The hotel uses Eco-friendly laundry, cleaning and maintenance products and uses refillable dispensers for hand wash, body wash, hair and shampoo. The hotel also uses recycled paper for everyday printing and copying, washable cotton towels for public restrooms, bamboo and cotton blended guest room towels, and non-allergenic micro fiber fill New Generation Pillows.
Seven4One celebrates its commitment to the environment with over 30 distinct eco-friendly elements and offers guests a "green" education and awareness program.
"Laguna Beach is a very earthy, environmentally conscious city. We have the ocean, the Surfrider Foundation [which battles ocean pollution]. We're in the heart of this art colony. We need to be green."  - Daniel Sussman, Seven4One Co-Owner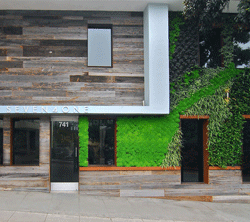 A "green hotel" with 10 guestrooms and 2 ocean view suites. Includes an on-site Seven4One restaurant.
Actions to Save Energy
Native and low-water-use plants and landscaping
Sterling Sleep Systems - Custom made mattresses from Eco-friendly materials
Use Eco-friendly laundry, cleaning and maintenance products
Use refillable dispensers for hand wash, body wash, hair and shampoo
Building is free of polystyrene foam ("Styrofoam") products
Use of Energy Star appliances - HVAC, refrigerators, freezers, ice machine, laundry, postage meter
Use of low-flow toilets, sinks and showerheads