Losing the Waste
Seton Medical Center Coastside lost tons of waste, earning the Center a State Waste Reduction Award in 2006. Reducing waste translated into cost-savings and environmental benefits.
This rural hospital, located on the California coast in Moss Beach, California, is home to a 116-bed Skilled Nursing Facility, a five-bed Acute Care Unit and an Emergency Department. Seton Coastside saved approximately $8,000 to $10,000 through waste reduction efforts and diverted more than 25 tons of materials from California over- loaded landfills in fiscal year 2005/06. The majority of the facility's waste reduction efforts were in the form of donation, recycling, and reuse.
What Actions Did Seton Coastside Take to Cut Waste & Recycle?
In 2001, Seton Coastside implemented the use of a "flat mop" system instead of their traditional mop system. This relatively simple action resulted in annual cost savings of over $2,000; reduced floor chemical use by 75%; and enhanced patient safety by eliminating the threat of any cross- contamination between rooms. Staff also thought creatively about donating and reusing items such as electronic equipment, pallets, binders, clothes and linens, instead of throwing them away. Seton Coastside increased its paper recycling almost 50% over three years while still complying with federal regulations. System improvements and widespread use of an intranet vastly improved electronic communication capabilities between facilities. The availability of policy and procedure manuals online eliminated the need to distribute hard copy manuals to multiple departments and contributed to paper waste reduction efforts. Seton Medical Center Coastside is the first hospital in California to receive the California Department of Resources Recycling and Recovery's WRAP of the Year Award and a statewide leader in their efforts to reduce waste.
"Seton Medical Center Coastside has accomplished an outstanding achievement in winning our WRAP of the Year award." - Rosalie Mulé, California Integrated Waste Management Board Member (the Waste Board is now part of the California Department of Resources Recycling and Recovery)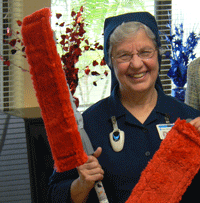 Seton Medical Center Coastside
A 116-bed Skilled Nursing Facility, a 5-bed Acute Care Unit and an Emergency Department
Actions to Cut Waste & Recycle
Implemented flat mop system (2001) resulting in annual cost savings of over $2,000, reduced floor chemical use by 75%, and enhanced patient safety by eliminating the threat of cross contamination between rooms
Implemented an online version of policy and procedure manuals that has furthered paper consumption reduction efforts
Diverted more than 25 tons of materials from disposal (FY 2006)
Estimated Cost Savings
$ 8000 to $ 10,000 (FY 2006)