Green Way of Moving
Rent-A-Green Box is a multifaceted fast growing company with green on the brain. Spencer Brown, who embraced the green philosophy, knew that over 20% of the population moves every year and noticed the excessive waste that went into every move from cardboard boxes that were used only once then thrown away to tape and Styrofoam peanuts. So he set out to change the way Southern California and America relocate their property without trashing the planet.. "His concern for sustainability at every aspect of the business was incredible and was matched only by his innovative solutions," said E.B. Gendel a professor of economics at Woodbury University.
Today, Rent-A-Green Box is a fast growing company opening new locations everywhere in Southern California and across the United States. Spencer Brown has also been busy educating the community about the benefits of going green by presenting to both K-12 schools and colleges.
One Man's Trash…
Rent-A-Green Box supplies it's customers with 20 different environmentally products acquired through recycling post consumer trash. The Recopack is their famous lime green box made from 100% hard to recycle plastic, Geami paper is a replacement for bubble wrap and is made from 100% recycled cardboard sludge, Recocubes act as Styrofoam peanuts and are made from recycled newsprint sludge and are great for gardening fertilizer, Expandos are for the non-gardeners and can be reused hundreds of times before being recycled are made from recycled cereal boxes, hard plastic bottle caps make their recyclable zip ties, and baby diapers are remade into their "Poopy Pallets!"
Green Delivery System
One simple area of environmentally minded design that Rent-A-Green Box uses is their delivery trucks. First their fleet is made up of all 100% bio-diesel trucks that remove 78% of the harmful emissions. Secondly they clean their Recopacks in transit thereby removing the need for a return trip removing another 1.3 million CO2 pounds from the atmosphere. And by planning their delivery routes to minimize miles traveled they reduce their emissions and save money on fuel.
"The importance of developing and inspiring the future business leaders in my company is based on walking the talk and making sure that they know that we just aren't renting a moving box but rather we're delivering environmental consciousness in a box and changing the way America packs and moves!" - Spencer Brown, Founder and Chief Tree Hugger, Rent-A-Green Box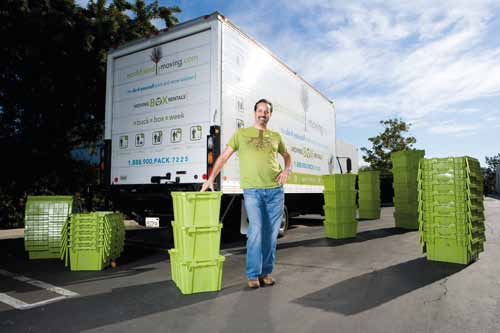 3505 Cadillac Ave. Building F-9
Rent-A-Green Box currently have 14 locations operating in California
Climate Friendly Actions
Uses recycled trash to make 20 different green, Zero-Waste moving products
Uses power management on all applicable devices, uses motion detectors on all common use area lights, purchased all energy star appliances
Presented Zero-Waste concept to over 124,000 kindergarten to 12th grade students, 189,000 college students, and 12,300 MBA students
Deliver products with their fleet of trucks powered by waste vegetable oil and bio-fuel