Green Cleaning
Norton's Green Cleaners is leading the way in alternative dry cleaning methods by reducing their chemical waste and installing energy efficient upgrades. Norton's Green Cleaners opened in 1971 as a dry cleaning service using the 'less than environmentally-friendly' perchlorethylene (chlorinated) solvent for over twenty years. In 2005, Norton's made the change to 100 percent professional wet cleaning, thereby eliminating all chemical waste, as well as expensive and inefficient equipment. Since the switch, Norton's has eliminated the need for a 10 ton chiller that is typically used in dry cleaning services, reducing their electricity bill as well as their carbon footprint.
In order to promote sustainability with their customers, Norton's Green Cleaners started a hanger recycling program where clients can return their hangers for reuse. This program has cut their hanger replacement cost by 30 percent. Biodegradable plastic garment bags are also distributed to clients upon request, promoting a healthy relationship with the environment. Norton's also encourages clients to purchase and reuse cloth garment bags. Approximately 25 percent of their clients are now using cloth garment bags, and over the next year Norton's Green Cleaners has set a goal to have 75 percent of their clients make the switch.
Building improvements have also helped Norton's to conserve energy. The windows are covered with a sun and heat blocking film, available through a Southern California Edison energy efficiency program. All steam traps have been replaced to eliminate leaks and energy waste within the building. In addition, Norton's Green Cleaners has also replaced the standard fluorescent lighting with T-10 light bulbs to improve energy efficiency.
"We strongly support the "Pay it Forward" philosophy and continue to conduct demonstrations here at our facility to teach other dry cleaners how to make the transition to a real clean process!"
-Norton's Cleaners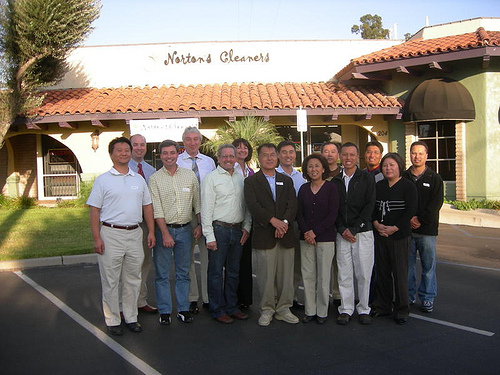 The Norton's Green Cleaners owners and employees pose in front of their store, where innovation meets environmental stewardship as Norton's strives to be a leader in the community.
They use a non-toxic cleaning process produces no greenhouse gases and no hazardous waste by using water based biodegradable, skin friendly solutions that do not leave solvent residues or odors on clothing.
Green Actions:
Hanger recycling program
Biodegradable plastic garment bags and encourages clients to purchase and reuse cloth garment bags
Windows are covered with a sun and heat blocking film
Replaced lighting fixtures with T-10 light bulbs