Design - Build a Greener Future
MAK Design+Build, Inc. is an environmentally conscious business that emphasizes sustainable building practices. The steps MAK has taken to become green significantly reduce their bills and conserve valuable resources.
MAK has taken several steps to buy green. In their office, MAK buys office paper, envelopes, and business cards with recycled content (minimum 30% post-consumer content). Their promotional materials are printed on recycled paper with soy inks. In addition, most communications (newsletters, announcements and holiday card) are sent by email instead of using paper mailers.
Part of MAK's business model is building green. MAK emphasizes energy efficiency in projects by specifying high efficiency windows, Title-24 lighting requirements, Energy Star appliances, hot water re-circulating pumps, and tankless water heaters where appropriate.
Owner Ken Kirsch intentionally looks for new ways to use building methods and materials that help conserve energy and resources.
What Actions Did MAK Take to Save Energy?
MAK uses a programmable thermostat to control heating and air conditioning in the office. MAK replaced all incandescent bulbs with fluorescent lights and uses task lighting and natural light to reduce energy usage. The business plugged all of their computers into multiple power strips to turn off after working hours.
What Actions Did MAK Take to Reduce Waste?
To cut down on meal time and business meeting waste, the business took steps to replace disposable beverage cups, plates, and utensils with washable, reusable items. Most of the furniture in the office was purchased second-hand.
What Action Did MAK Take to Reduce Toxics?
As a builder, MAK uses formaldehyde free building products and other low emission building materials. They use no or low volatile organic compounds (VOC) cleaning and maintenance products. They use recycled content and sustainably-harvested materials whenever possible. For example, they are a distributor for a green cabinet company which features low-VOC and sustainable resource choices.
MAK is a green-certified business that helps improve the environment both in their own office and through their business practices.
"Our staff are committed to living out green practices at home and at work, as well as on the jobsite. We are proud of our green contributions." - Juliana Tadano, Project Assistant and Green Coordinator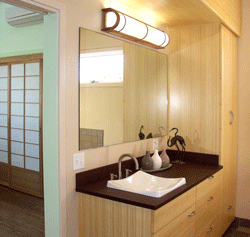 Green-certified, by Build It Green, residential design and build company that provides green solutions for residential remodeling.
Actions to Build Green and Buy Green:
Uses responsible building materials
Uses power strips for computers
Uses a programmable thermostat to control heating and air conditioning
Buys products made from sustainable, recycled or re-used materials whenever possible
Replaced all incandescent bulbs with
fluorescent lights
Uses formaldehyde-free building products
Employees can bike to work or telecommute some days to reduce travel emissions
Recycles or repurposes the majority of jobsite waste
Renovation Cost:
$1,000 for efficient lighting and daylighting changes and no VOC paints
$50 for non-disposable breakroom supplies
Estimated Cost Savings:
$250 a year on lighting and computer standby costs
$2,000 buying used furniture for office build-out
No cost increase for green office products or cleaning products