iBank Goes Paperless
iBank is a small, private company that has been paperless since 1999. One of iBank's primary business goals is to help reduce the usage of paper products. iBank helps other businesses obtain funding, equipment leases and other business services online with an application process that goes to hundreds of lenders, insurers, coaches and consultants online.
What Actions Did iBank Take to Cut Waste?
By doing everything online, there is no need to use paper in the form of long documents that are physically mailed. This reduces paper usage because both the paper application, as well as the postage necessary to deliver the applications is eliminated. In addition, within the office they make every attempt to be a paperless office and reduce their carbon footprint. The employee manuals and documentation are all run on an intranet website eliminating the need to print large booklets. Company documents are e-mailed rather than printed, and company-wide meetings make use of projectors using computers rather than printing sales reports.
What Actions Does iBank Take to Recycle Old Equipment?
iBank employees make sure that old or obsolete computer equipment is never wasted. If equipment reaches the end of its life cycle, every attempt is made to donate equipment to local schools and charitable organizations. If the equipment is too old to be useful, it is disposed of using a certified hazardous waste collection company so that computers and monitors do not end up in landfills.
What Actions Did iBank Take to Be More Energy Efficient?
All of the iBank office's internal lighting is supplied by compact fluorescent light bulbs. Additionally, iBank recycles bottles and cans using a local recycling program. Everything that can be reused is, and anything that can't be re-used is recycled if possible.
What Actions Did iBank Take to Conserve Resources?
iBank believes in preserving the environment by completely removing any paperwork that is involved in the loan process. In keeping with this philosophy, their new press kits will be on CD and will include the company logo on biodegradable paper that includes seeds which can be easily planted anywhere.
iBank believes that companies worldwide must lead the fight for a greener, healthier world and must start today!
"Greening your business not only helps the environment, it is also just a sound business practice." - Ken Phibbs, iBank Database Administrator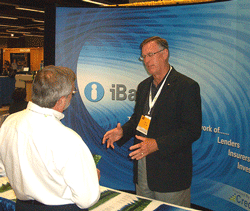 iBank.com is America's largest online small business development center and connects small businesses to a nationwide network without using paper resources.
Actions to Cut Waste & Buy Green
Paperless company
Press kits are on compact discs
Business applications done online
Online employee manuals
Company documents are e-mailed
Recycle or donate old equipment
Compact fluorescent lighting in office
Recycles bottles and cans
Company logo printed on biodegradable paper