A Green Contribution to the World
Meet the husband and wife green team — Marco Pietschmann and Bettina Limaco. Together the two started their small business, Green11, as part of their vision for the future of shopping. Green11 isn't your average retailer. The duo has implemented a new retail model that minimizes consumer packaging, thereby significantly reducing waste from the traditional supply chain. This is all done through a revolutionary concept called the "closed-loop distribution model."
Green11 encourages consumers to reuse and refill containers to buy everyday personal care, kitchen/home cleaning and laundry products. By doing so, customers are able to save money and the environment — one container at a time.
What Actions Does Green11 Take to Eliminate Waste?
Green11 was built on the philosophy of making a meaningful contribution to the world. With this concept in mind, Marco and Bettina ensure that its business eliminates waste through its "closed loop distribution model." This model has a real and lasting effect to reduce solid waste as well as greenhouse gas emissions, while reducing costs and promoting savings.
For example, the small business purchased a 55-gallon drum of laundry detergent for resale at the retail level. Its customers then bring in their own container to purchase laundry detergent. Through this practice, Green11 eliminates packaging from the supply chain, thereby eliminating the energy and use of resources to produce packaging that will be used for a short-term period and end up in our landfills. In addition, shoppers can save 20-25 percent!
What Actions Does Green11 Take to Recycle Materials?
Marco and Bettina's business encourages customers to take recycling one step further. Reusing containers through refilling extends the life of a plastic container and has the direct impact of significantly reducing consumer's plastic consumption.
What Actions Does Green11 Take to Educate and Lead the Community?
Green11 is focused on building a business that is community-based wherever it operates. In an attempt to involve the community, Marco and Bettina spend a lot of their time talking with customers and educating the locals in the area. The dynamic duo encourages their customers to think outside of the box and embrace a more environmentally friendly way to purchase products, not packaging. The store is recognized as an environmental ambassador for San Francisco.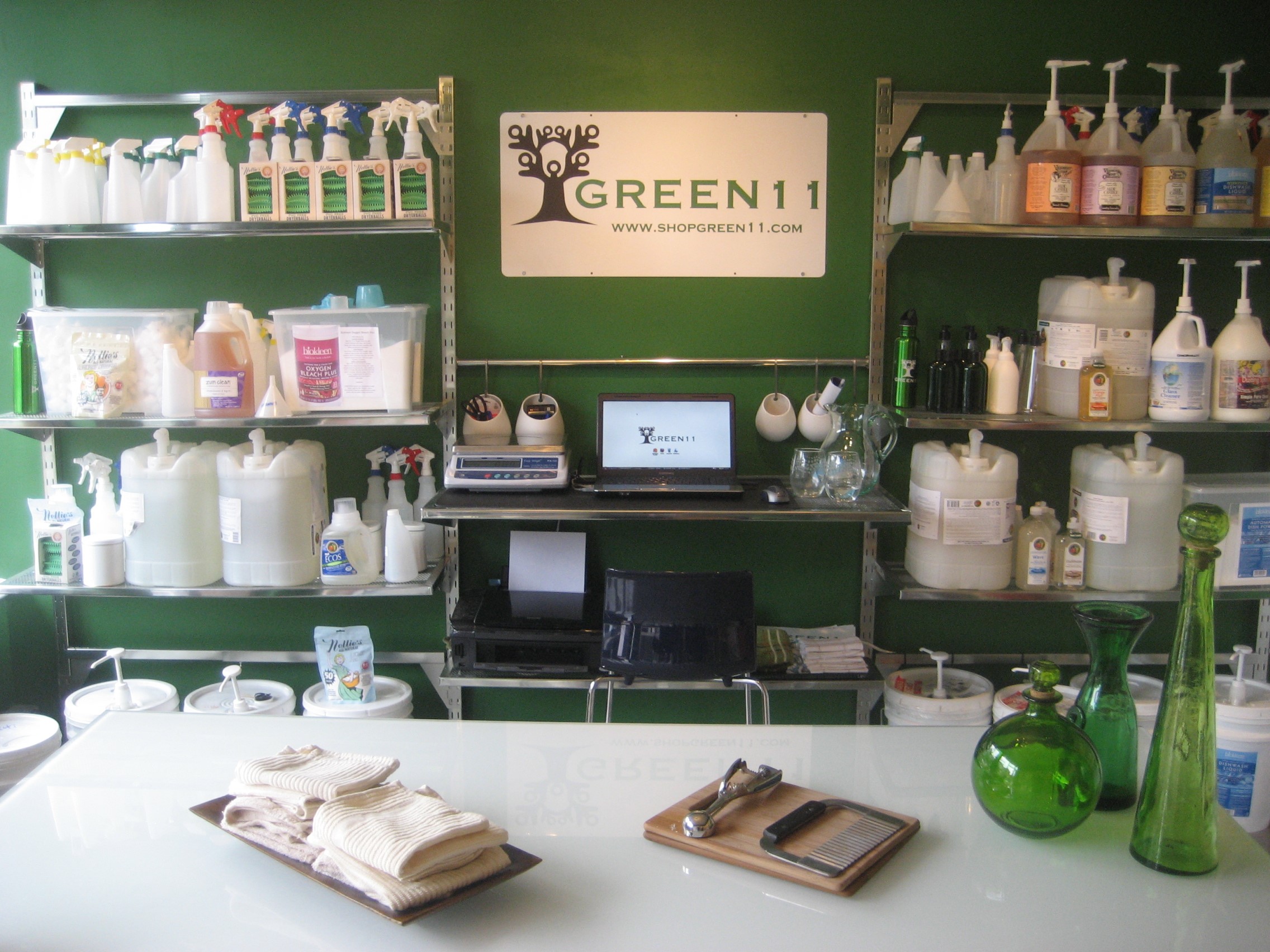 Community-based retailer that offers refilling for organic beauty and non-toxic cleaning products.
Green11 has Three Locations:
178 South Boulevard
San Mateo, CA 94402
3980 24th Street
San Francisco, CA 94114
1352 A 9th Avenue
San Francisco, CA 94122
Climate Actions
Reduces a significant portion of waste by eliminating packaging ("closed loop distribution")
Procures products in bulk from the manufacturer
Gives consumers the option to bring their own container when purchasing products
Serves as a retail model for refilling
E-mails receipts, rather than printing
Reuses paper to make business cards and shopping bags
Encourages alternative eco-friendly shopping habits
Encourages employees to live "green" and evaluate their daily lifestyle
Awards and Recognitions
Best of the Bay 2010, San Francisco Magazine
Best Beauty Supply Store, San Francisco Chronicle's Bay List 2010
Editor's Pick 2011, Best Refill Not Landfill, San Francisco Bay Guardian