"Audio Visualizing" The Way to a Sustainable Future!
Cibola Systems is an audiovisual design firm specializing in creating business meeting environments while integrating AV technologies that inspire team communication.
Since 1971, Cibola Systems has embraced the accelerating changes in audiovisual and multimedia technology while remaining committed to the environment. They are recognized for their record in sustainable site development, water efficiency, energy, material and resource management, indoor environmental quality and innovation in the design process.
Cibola Systems has invested in Energy Star® rated kitchen and office supplies. They have also purchased motion activated lighting, as well as installed dimmers on light fixtures to help reduce energy consumption. The building utilizes sky lights to help reduce the need for artificial lighting to maintain a pleasant work environment. Cibola encourages alternative commute options by offering preferred parking for carpoolers and is planning to install showers and bike racks to encourage bicycle commuting. Cibola deliberately chose to relocate its office closer to public transit for the benefit of employees, as well as visitors. The company also offers for employees to telecommute to work, thereby reducing GHG emissions.
Outside, a rain water collection system waters an edible garden using drip irrigation lines, which reduces their water use by approximately 75 percent. The building's roof is light colored, making it cheaper and more efficient to heat and cool, saving money and electricity.
Cibola Systems Corporation is leading the way as a sustainable business. Through education and outreach, Cibola Systems aids other companies in their efforts to use technology to become more sustainable.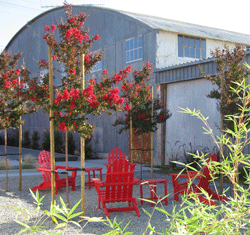 Cibola Systems Corporation
The outside patio at Cibola Systems has been outfitted with a garden, using a reclaimed water system for employees to utilize during breaks.