Solar Home Community
Harmony is CenterStone Communities' first solar community in the San Bernardino County. CenterStone Communities is committed to designing homes that are increasingly healthy for homeowners, more efficient, and gentler on the environment. Harmony solar homes typically out perform California's Title 24 Energy Codes by 17% to 42%. Each home operates with a reduction of power plant pollutants and dependence on non-renewable energy resources.
CenterStone homes have the most modern Energy Star rated appliances, low flow toilets, weather smart irrigation sensors and low-E glass dual paned windows. The insulation installed contains no formaldehyde and is certified as low emitting by the State of California. More than 60% of construction waste is recycled which reduces the amount of waste sent to landfills and saves money for the buyer in the construction of their new home.
What Actions Did CenterStone Communities Take to Save Energy?
CenterStone installs Energy Star rated appliances, low flow toilets, weather smart irrigation sensors and low-e glass dual paned windows in every home. The insulation used is made of recycled materials, and model homes have special outdoor lighting systems that have sensors to only come on in the evenings.
What Actions Did CenterStone Communities Take to Cut Waste?
Most new home communities offer bottled water to prospects, but CenterStone uses recycled cups and filtered water in an effort to avoid plastic water bottle use. CenterStone recycles more than 60% of their construction waste, reducing the amount of building material sent to the landfill.
What are the Results to CenterStone's Actions?
Each of CenterStone's homes features 50 energy and water conserving systems. Each house is over 20% more efficient than the standard production house, without the use of solar energy. CenterStone built photovoltaic (PV) solar panels onto each home's roof making them even more energy efficient. CenterStone Community homes are typically built to out perform the California's Title 24 Energy Code by more than 17% to 42%.
How Have CenterStone Communities' Efforts Been Recognized?
CenterStone's business achievements are numerous. CenterStone holds an annual Earth Day event at its Harmony project. Harmony annually hosts the Build It Green GreenPoint Certified training and testing exam at its site.
CenterStone Communities has shown that building community homes can be a green, environmentally-friendly business. As the economy improves, CenterStone hopes to hire additional employees to keep up with the construction demand within their undeveloped sites.
"Harmony homes provide 2.3 kw solar roof module systems that combine energy production and aesthetic design- delighted home owners brag about next to no cost electrical bills!" - Acquanetta Warren, Mayor Pro Tem, City of Fontana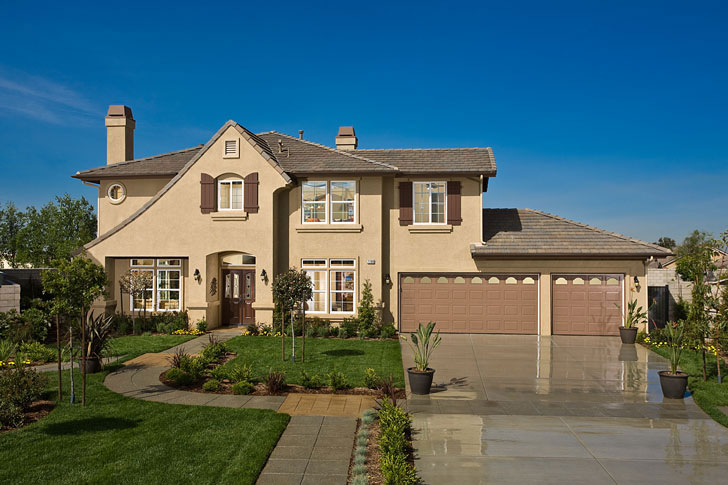 A sustainable home construction company with the first solar home community in San Bernardino County, a 53 home community built in 2008.
Actions to Cut Waste & Save Energy
Recycles more than 60% of construction waste
Uses recycled cups and filtered water
Uses Energy Star rated appliances in homes
Installs low flow toilets in each home unit
Uses 2.3 kw solar systems on each home
Uses recycled, non-formaldehyde insulation
Uses low-VOC paints
Uses lighting systems with sensors in homes
Uses water-conserving turf in landscaping
Harmony is at platinum level recognition by the California State Utility Commission
Estimated Yearly Cost Savings
$143,100 in electricity bills for the 53 home Harmony community