Royally Green Dry Cleaning
Brentwood Royal Cleaners first opened its doors in 1948 and since 2003 has offered environmentally-friendly dry cleaning. Traditional dry cleaners use a chemical called Perchloroethylene, which is a known carcinogen and ground contaminant. Brentwood Royal Cleaners uses a CO2 cleaning process that does not harm the environment. Brentwood Royal Cleaners has approval from the Environmental Protection Agency (EPA) and the California Air-Resource Board (CARB) as well as South Coast Air Quality District Management (SCAQMD) to use liquid CO2 to dry clean clothes. This CO2 cleaning process is environmentally friendly, non-toxic, hypoallergenic and dry-cleaned clothes lack chemical smells associated with dry cleaning. The process is also less expensive than traditional cleaning, costing Brentwood Royal Cleaners $2,544 less a year. Brentwood Royal Cleaners also employs many other green business practices. They use reusable bamboo hangers instead of metal hangers. They also use a product called Green Garmento, which is a durable polypropylene garment bag. This reusable garment bag helps eliminate the dry-cleaner bag, which reportedly accounts for three hundred million pounds of landfill-clogging waste each year.
How Did Brentwood Royal Cleaners Pay for their New Dry Cleaning Machines?
The cost of a CO2 machine is approximately $150,000, three times more than a traditional dry cleaning machine. However, government assistance is available through grants. The California Air Resources Board has offered a grant program for the dry cleaning industry since August 2004. The program provides $10,000 grants to any eligible dry cleaners in the state that is willing to transition from the use of PERC machines to alternative non-toxic and non-smog forming technologies such as water-based and CO2cleaning systems. The California Air Resources Board gave Brentwood Royal Cleaners a grant of $10,000 in 2005 in recognition of their efforts in keeping air and the environment free of pollution. The Air Quality Management District also offers grants and the South Coast section gave the Brentwood Royal Cleaners a grant to purchase its new environmentally friendly system.
What Action Did Brentwood Royal Cleaners Take to Support Green Transportation?
The business has made efforts to 'green' it's home delivery vehicles. Owner Bobby Smerling soon hopes to replace all of his vans with hybrid vehicles.
Brentwood Royal Cleaners has been selected as America's Best Cleaners since 2002, and they have been Consumer Review's Best Dry Cleaner for six years in a row. They've also received California EPA Dry Cleaner recognition.
"The carbon dioxide process has health and environmental benefits, and the costs of using the system are lower than they were with PERC even though I had to buy a new machine." - Bob Smerling, Owner of Brentwood Royal Cleaners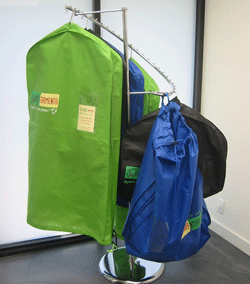 256 - 26th St. Suite #100
A dry cleaning business that uses a liquid CO2 cleaning process versus traditional and harmful Perchloroethylene dry cleaning.
Actions to Save Energy & Buy Green
Uses liquid CO2 cleaning process
Uses reusable bamboo hangers
Taking actions to 'green' fleet of vans
Uses Green Garmento reusable garment bags that reduce waste
Renovation Costs
$150,000 per machine
(cost partly offset by grant from the South Coast Air Quality Management District)
Estimated Yearly Cost Savings
$2,500 annually
(cleaning costs alone)