Going Green and Going Digital
Audio Visual (AV) Consultants is a Certified Green Business in Alameda County specializing in video production and editing. AV Consultants is reducing waste by using only recycled content "re-sleeves" for their CDs and DVDs. They also feature examples of their work online rather than mailing-out informational packets. AV Consultants uses web-based correspondence and production, editing and distribution of all the videos produced. Videos during the posted on YouTube to promote video sharing, while also reducing any waste that a hard copy CD would produce.
AV Consultants provides bus stop information on the website to encourage the use of public transportation and reduce the carbon footprint of their customers.
Audio Visual Consultants, owned and operated by Stu Sweetow, is committed to going green and demonstrating leadership through its waste reduction efforts in the video production industry.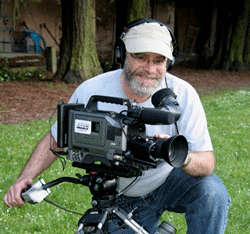 3640 Grand Ave. Suite 105
Stu Sweetow, founder of Audio Visual Consultants, is dedicated to providing quality products with minimal packaging to reduce their carbon footprint.