Inspiring a Community
The Solana Center for Environmental Education and Innovation operates as a non-profit organization designed to teach creative solutions to ecological problems within a community. Solana is Spanish for "a place where light shines" and they carry this philosophy with them throughout their business practices. The Solana Center opened in 1983 and pioneered the first comprehensive curbside recycling program in San Diego County. Since then, the Solana Center has shifted its focus to public outreach efforts.
The Center offers a variety of free classes teaching gardening and composting techniques, as well as sponsoring recycling events and beach clean-up days. Their mission is simple: to empower students and adults to become environmental stewards in their community. The Solana Center provides education and information on topics like composting, gardening, watershed protection, pollution prevention, sustainable living, and environmental education. "Carrying the torch of environmental awareness is something we take very seriously, finding ways to illuminate problems, creating solutions and inspiring change." To support the center, gardening and composting products are sold at their storefront.
The County of San Diego and surrounding cities have partnered with the Solana Center to provide resources and demonstrate support for the education and outreach events. For example, the city of Vista started a stormwater protection campaign and now teaches the danger that oil and chemicals presents to the public wildlife when introduced to waterways. The city of San Diego has also worked through a partnership with Solana Center to implement gardening and composting projects in the public schools to provide students with knowledge and access to fresh foods grown sustainably.
The Solana Center for Environmental Innovation is dedicated to community outreach, sustainability, and education. Through partnerships with five area cities, the Solana Center has inspired change through community classes and improved access to expert knowledge and workshops.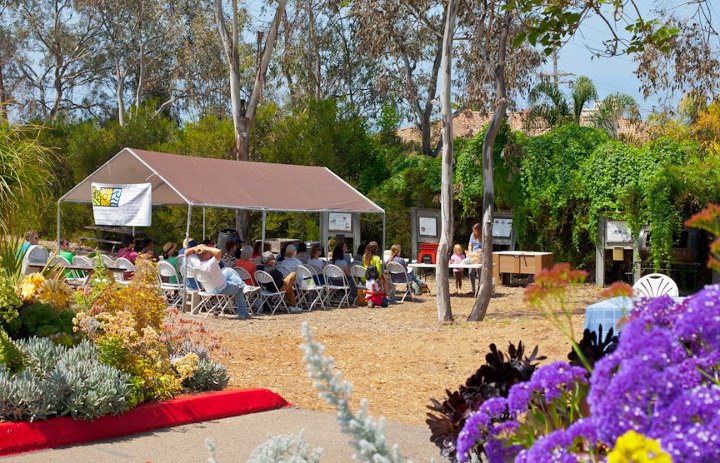 The Solana Center for Environmental Innovation hosts community classes and workshops to teach and inspire others about becoming an environmental leader in the community.