Saving energy with a clothesline
Liz has had a lifelong interest in preserving the earth's biodiversity. On a more local level she has found great enjoyment in growing her own food and going to farmers markets. She has strived to reduce her household carbon footprint and accomplished this with a few easy actions:
Uses fluorescent light bulbs.
Keeps the thermostat set to 66 F in winter months and they don't have air conditioning.
Turns off lights and appliances when not needed.
Uses a clothes line and clothes drying rack instead of the dryer.
These actions have paid off. Her utility bill shows they used 0.5 therms per day in July 2009 vs. 0.9 therms last year. The calculated difference results in an estimated reduction of 1,874 lbs. of CO2 per year and a savings of approximately $77/year. Liz's story is just another example of an easy, and very low-cost action that households can take to reduce their carbon footprint and help save the planet.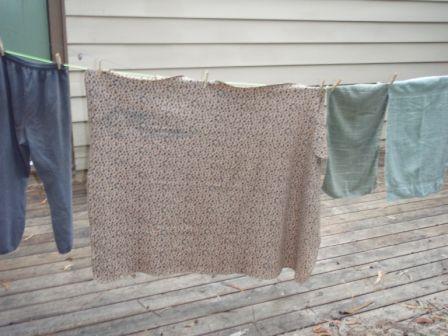 Action: Use a clothesline and drying rack instead of dryer.
Anticipated Cost Savings: $77 per year in energy costs
Anticipated Savings in CO2: 1,874 lbs. per year
Resources: Project Laundry List - Check out their laundry tips and  air-drying advocacy