Action Equals Huge Impact
Since 1970 Ecology Action has combined municipal, foundation, and private funding to establish conservation programs, prove their effectiveness financially and operationally, and establish each program as a permanent community resource.
Ecology Action's team of experts help schools, businesses, individuals, and government entities implement these programs. Such programs include the annual Bike to Work/School program, Green Gardener program, Santa Cruz County Home Composting program and the Fryer to Fuel program.
Ecology Action practices policies including waste diversion, recycling, sustainable transportation, energy conservation, Environmentally Preferable Purchasing (EPP), and employee conservation recognition. In 2008 Ecology Action completed the process of researching and drafting an initial internal Climate Action Plan (CAP) which includes a detailed report on the greenhouse gas (GHG) emissions profile for their operations broken down by sector, and makes recommendations to address, reduce and offset those emissions.
As a certified green business, Ecology Action's in-house energy efficiency efforts alone annually equate to powering nine single-family homes. As a business, Ecology Action's program efforts reduced 392,760 tons of CO2e in 2008.
What Did Ecology Action Do to Cut Waste?
Ecology Action boasts an extensive in-house waste reduction, recycling and composting zero waste program, achieving over 62% diversion from traditional desk-side recycling alone, and exceeding solid waste reduction requirements. Additional diversion is achieved with in-office vermicomposting, household hazardous waste recycling, widespread reuse from 1-sided paper bins to sustainable catering kits for zero-waste in-house workshops, events and meetings, as well as broad employee education including informational postings, labeling presentations and regular access to an in-house team of zero-waste experts. In 2008, it is estimated their internal operations diverted 10,030 pounds through curbside recycling, with an additional 2,600 pounds diverted through source reduction, equivalent to the reduction/avoidance of 25,260 pounds of CO2.
What Did Ecology Action Do to Buy Green?
Ecology Action is currently pursuing a more comprehensive Environmentally Preferable Purchasing (EPP) policy. A sample of existing policy elements includes: buying local, organic meals from certified green businesses, eliminate beef from food purchased for events, require Energy-Star standards for computers and other equipment purchases, make proximity and use of locally-owned businesses and services a priority for all purchases, purchase only non-toxic bathroom and kitchen products, and give purchase preference to the highest amount of post consumer recycled content, refillables, durable long-lasting and ultimately recyclable materials/office supplies if possible.
What Did Ecology Action Do to Drive Clean?
Emissions associated with transportation account for more than half of Ecology Action's annual GHG emissions, 98 out of 172 tons. The Fuel Efficient Vehicle Subsidy Program provides employees who drive more than 10,000 business miles/year with an advance of up to $6,000 against future mileage reimbursements, currently $.55/mile, plus up to $1,000 as an additional incentive toward the purchase of a more fuel efficient vehicle. The GHG savings for this program are expected to result in a 42% decrease in transportation- related emissions, mitigating nearly 30% of total annual emissions.
Ecology Action has made it their business to be a role model for other businesses and help communities implement programs to reduce GHG emissions.
"Addressing climate change is central to our mission. While progress is being made in California, there is much to be done. We believe that stronger partnerships between the public and private sectors, and among state, regional and local governments are critical to further progress on climate change." - Virginia Johnson, CEO / Executive Director, Ecology Action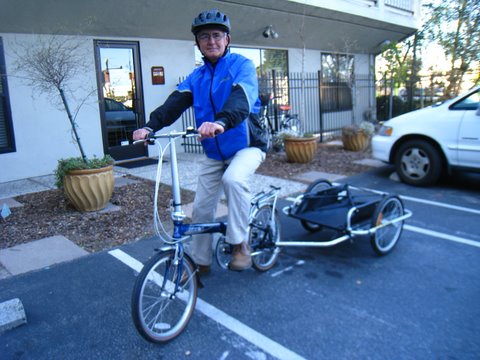 Nonprofit environmental consultancy offering education services, technical assistance, and program implementation resources.
Actions to Be Green & Drive Less
Purchases only non-toxic bathroom and kitchen products
Composts, including vermicomposting
Purchases wind power carbon offsets
Uses biodiesel fuel in company vehicle
Employees bike or commute to work
Requires Energy-Star standards for computers and other equipment purchases
Drafting an internal Climate Action Plan
Estimated Yearly Greenhouse Gas Emission Reductions
392,760 tons of CO2e in in 2008 via programs