City Encourages Renewable Energy
On December 4, 2001 the Santa Rosa City Council took the leadership role in the County and voted to become a member of Cities for Climate Protection, a project of the International Council on Local Environmental Initiatives (ICLEI).
The City of Santa Rosa set a greenhouse gas (GHG) emission reduction target of 20% from 2000 levels by 2010. In addition, the City is also part of Sonoma County's Community Action Plan, spearheaded by the Climate Protection Campaign, and is working with other local cities to facilitate the reduction of GHGs by 25% below 1990 levels by 2015 in other cities.
Santa Rosa has been innovative in its pursuit of public-private relationships. These relationships are what has changed the culture in the City and allowed them to be placed on the top 10 list of Green Cities in the U.S. for 2006.
The City aims to reduce emissions in four major categories: energy and water efficiency, creating more energy efficient vehicle fleets, green building standards and an investment in renewable energy.
What Actions Is Santa Rosa Taking to Use Solar Power and Save Energy?
Currently, the City has installed 5 photovoltaic (PV) systems totaling 131 kilowatts, which together are conservatively estimated to be producing approximately 200,000 kilowatt hours of green energy each year. The City also has two other projects which are currently in the works, that will add an additional 85+ kilowatts of energy. The City took two lighted bus shelters and converted them to solar, and added 12 new solar shelters. More alternative energy projects are in the developmental stages including solar hot water and additional PV arrays, utilizing PG&E rebates and incentive programs for funding.
The City recently signed onto the AB811 County financing district to provide low-cost loans to homeowners and business owners for permanent energy efficiency retrofits, such as small scale electric generation and solar hot water systems. The loans are paid back over a number of years as assessments on property tax bills.
What Actions Is Santa Rosa Taking to Build Green?
The City of Santa Rosa began the Santa Rosa Build It Green (SR BIG) Program in February 2004. This program promotes building and remodeling homes in a way that reduces energy demands, releases fewer pollutants into the atmosphere, conserves water and reduces construction waste. The City Council adopted a mandatory Green Building Ordinance in 2007 that requires residential construction to have a 50 point Build it Green score and a LEED requirement for commercial, industrial and municipal construction of at least 20 points. In August 2009, the City will increase the points required to approximately 100 points for residential and 26 points for commercial construction.
What Actions Is Santa Rosa Taking to Conserve Water?
The Utilities Department has had an aggressive water conservation program since 1992, with low-flow toilet rebates and other water savings programs. Today, nearly 3,500 megawatt hours are saved each year at the Laguna Wastewater Treatment Facility due to conservation by residents at the tap.
The Laguna Facility is testing the use of algae to purify wastewater and convert bacteria into biofuel to help run the plant. Algae harvested from the water are fed to on-site anaerobic digesters that produce methane, which is burned to generate electricity. If implemented throughout California, scientists predict this technology could reduce emissions by 80,000 tons each year.
The City of Santa Rosa continues to strive for its goal to reduce greenhouse gas emissions by 20% from 2000 levels by 2010.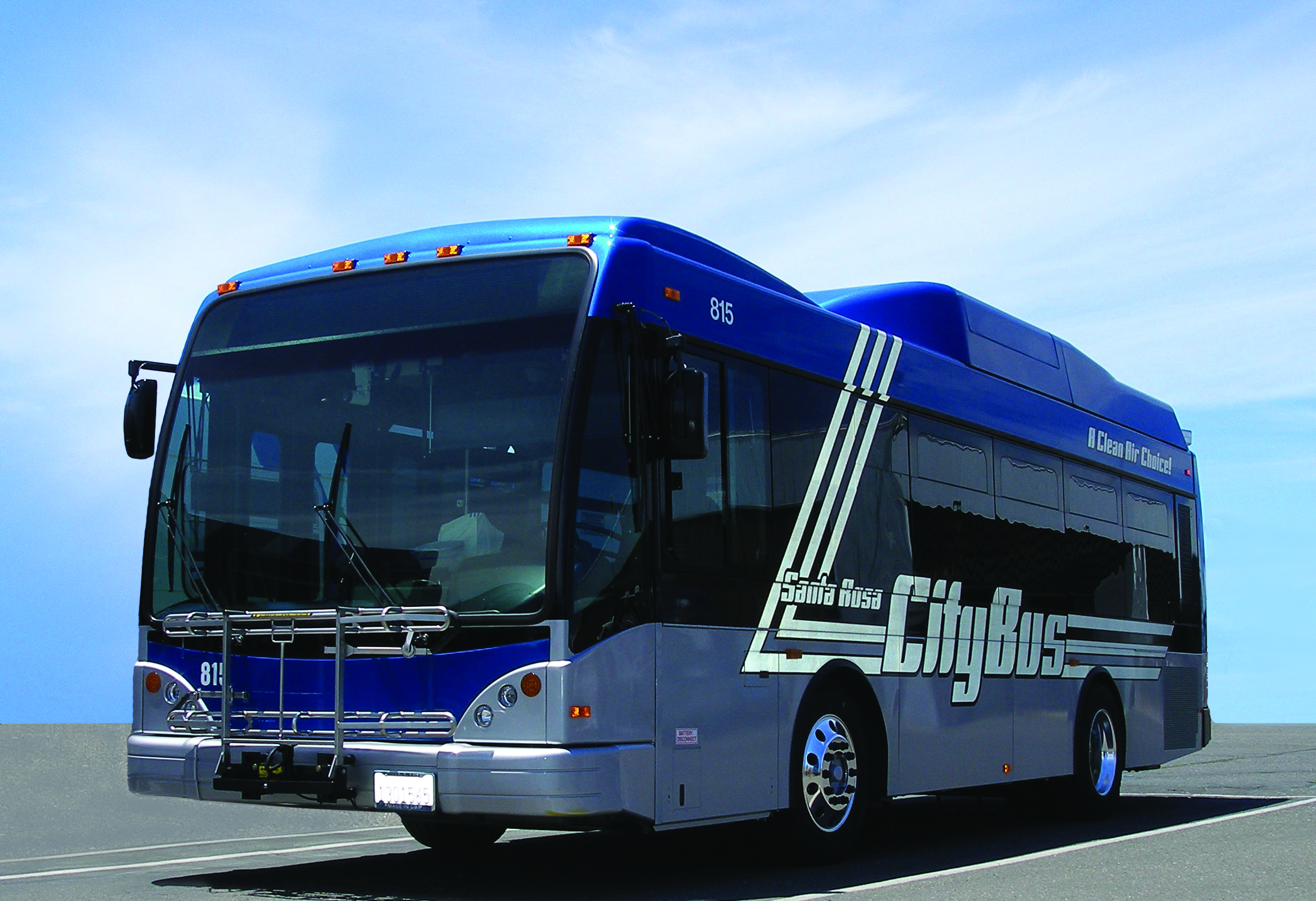 Santa Rosa's CityBus fleet is changing the way it uses energy by converting its entire fleet to hybrid buses like the one pictured above.
"Even though Forbes Magazine lists Santa Rosa as one of our nation's 'greenest' cities, there is so much more that needs to be done." - Mayor Susan Gorin, City of Santa Rosa
Green Actions Snapshot
Adopted climate resolution which references the Sonoma County Climate Action Plan
Installed "cool roofs" on City buildings
Upgraded lighting to 3rd generation T-8 fluorescents in City Hall, Annex, PSB, Chamber, and Finley Community Center
Replaced 173 traffic signals with LED lights
Installed municipal photovoltaic (PV) panels
Created Santa Rosa Build It Green Program
Converted Santa Rosa CityBus fleet to hybrid buses
Investigating the use of algae to purify wastewater and convert bacteria into biofuel
Environmental Benefits
Municipal PV systems produce 200,000 kilowatt hours (kWh) of green energy each year
Implementing the recommendations in the Water-Use Home Survey Kits allowed customers to reduce their water use by more than 25%
Estimated Cost Savings By 2025
City aims to save $24,974,343 in utility bills
City aims to save $8,528,197 in fuel purchases
Estimated Greenhouse Gas Emission Reductions
1.4 million metric tons of CO2e in Sonoma County