An Eco-Friendly City Plan
In 2002, the City of San Francisco passed a resolution committing the city to an emissions reduction goal that goes beyond the Kyoto Protocol objectives. The resultingClimate Action Plan focuses the City's efforts on transportation, energy efficiency, renewable energy, and solid waste management as the key areas that will have the greatest impact on climate change.
The City anticipates these four areas will greatly reduce greenhouse gas emissions. For example, transportation strategies such as the increased use of clean-air vehicles and improved fuel efficiency will help reduce 37% of the City's GHG emissions. The City's goal is to reduce GHG emissions 20% below 1990 levels by 2012.
By increasing private sector incentives, direct installations, and technical assistance as well as strengthening codes and standards, the City anticipates that 31% of GHG reductions will be achieved through energy efficiency. Energy efficient actions such as installing LED traffic signals will help to reduce electricity use by an estimated 7.7 million kilowatt/hours that will save the city $1.2 million per year.
What Action is San Francisco Taking to Use Renewable Energy?
Renewable energy programs that promote power production from solar, wind, biomass, ocean wave, and bay tidal current sources will help the City to reduce an estimated 548,000 tons of CO2, which represents 21% of total estimated GHG reductions.
What Actions is San Francisco Taking to Recycle and Reduce Waste?
An expanded recycling program combined with methane capture at City-operated landfills will help to reduce 11% of estimated GHG reductions. Also, in 2007, Gavin Newsom, Mayor of San Francisco, issued an executive order restricting city and county funds from being used for bottled water with a deadline to convert to bottleless water systems. During 2007, $356,530 was spent on bottled water and $154,162 was spent on bottleless coolers to replace the need for bottled water, for a total cost for drinking water of $510,692. In 2008, $192,807 was spent on bottled water and $141,967 was spent on bottleless systems for a savings of $175,918 from the base year of 2007. In 2009, spending for bottled water was down to $104,365 and bottleless water costs were down to $56,225 for a savings of $350,102 from the base year of 2007. The total savings since 2007 up to the beginning of 2010 has been over a half a million dollars. The bottleless systems are helping to cut plastic bottle waste and deliver healthier water without the fear of unhealthy chemicals from plastics.
What Actions is San Francisco Taking to Build Green?
In 2008, San Francisco signed into law a Green Building Requirements Ordinance that was developed from a task force set up by the office of the mayor in 2007 to study and develop green building proposals for the City. The policy, described as one of the most far reaching green building policies in the U.S., imposes green building requirements on all newly constructed buildings in the City because building facilities are responsible for 49% of the city's GHG emissions.
According to the findings of the Task Force on Green Building for the City and County of San Francisco, the cumulative benefits of the ordinance through 2012 are approximately as follows: CO2 emissions will be reduced by 60,000 tons, 220,000 megawatt hours of power will be saved, 100 million gallons of drinking water will be saved, wastewater and storm water will be reduced by 90 million gallons, construction and demolition waste will be reduced by 700 million pounds, the valuations of recycled materials will be increased by $200 million, the number of automobile trips will fall by 540,000 and green power generation will be increased by 37,000 megawatt hours.
The City of San Francisco is making and effort to preserve the environment and be energy efficient through the Climate Action Plan and the Green Building Requirements Ordinance. The City is on its way to reaching its goal of reducing GHG levels to 20% below 1990 levels by 2012.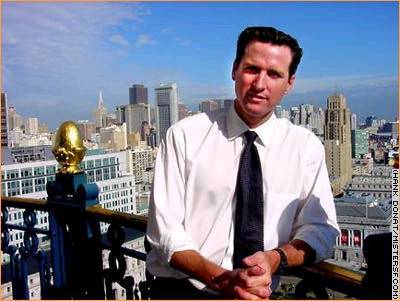 1 Dr Carlton B Goodlett Place
"We must act now to significantly reduce greenhouse gas emissions or we will quickly reach a point at which global warming cannot be reversed." - Gavin Newsom
Mayor of San Francisco
Green Actions:
Implemented water-efficient landscaping, wastewater management, and reduction of water use strategies
Greened city fleet with more than 800 clean-air vehicles; one of the largest municipal alternative fuel vehicle fleets in the nation
Created a mass transit fleet with 57% zero-emission vehicles; a goal of a completely zero-emission fleet by 2020
Estimated Annual Greenhouse Gas Emission Reductions:
Actual/Measured
-801,000 tons of CO2 from energy efficiency
-963,000 tons of CO2 from new transportation
-550,000 tons of CO2 from renewable energy
-302,000 tons of CO2 from solid waste
Projected/Future
-60,000 tons of CO2 by the year 2012 from the Green Building Requirements Ordinance
Estimated Annual Cost Savings:
Actual/Measured
-Since 2002, direct install and energy efficiency programs have reduced utility bills by over $20 million for local businesses
Projected/Future
-$44.6 million by 2027 from construction, (Mayor's Green Building Requirements. Economic Impact Report May 21, 2008)