Ordinances Create Climate-Friendly City
The City of Monterey, known for its aquarium and Fisherman's Wharf, has long been committed to preserving and protecting the natural environment. In July 2007, Mayor Chuck Della Sala signed the Urban Environmental Accords and the U.S. Mayors Climate Protection Agreement.
The City has completed a community-wide Greenhouse Gas (GHG) audit and a Government Operations GHG audit. These audits establish a baseline for future GHG reductions. The City is dedicated to its vision of becoming a sustainable community, and plans to release its Climate Action Plan December 2009.
Monterey's climate protection plan identifies several strategies to green the City; including the adoption of a Green Building Ordinance, adoption of an ordinance that bans Polystyrene products, the use of zero emissions vehicles and biodiesel vehicles in the City fleet, promotion of a recycling outreach campaign, energy-efficient lighting retrofits to City buildings, and community education events.
The City's goal is to reduce the entire community's year 1990 greenhouse gas emissions levels by 7% by 2012.
What Actions Did Monterey Take to Save Energy?
The City implemented several lighting upgrades in major facilities, including three parking garages and the Monterey Sports Center. The projects replaced lighting fixtures that now reduce the average energy consumption by 35% and 40,000 kWh of electricity annually. The City received rebates from the California Public Utilities Commission in the amount of $75,000. The annual cost savings is around $50,000 for the garages and $47,000 for the Sport Center. All the new lights have a life expectancy of more than 100,000 hours compared to 30,000 hours, thus cutting back on replacement cycles and maintenance costs. These additional savings are estimated to be around $65,000 over the lifetime of the lights for all three project sites.
Beginning in 1996, the City retrofitted all streetlights with LED lights, reducing energy costs by $40,000 annually and reducing over 1,000 tons of carbon.
What Actions Did Monterey Take to Build Green?
After holding its first annual Green Building Expo in November 2007, Monterey began creating a green building program. In July 2008, Monterey's City Council unanimously adopted a Green Building Ordinance for all new construction and remodeling projects. After a one-year voluntary phase, all new City building projects greater than 1,000 square feet must be designed, built, and commissioned to achieve the Leadership in Energy and Environmental Design (LEED) Silver certification.
What Actions Did Monterey Take to Cut Waste and Save Water?
The City implemented a recyling outreach campaign that involved creating a website which lists rebate programs, E-waste events and ways to reduce waste in all aspects of residents' lives. A ban on Polystyrene products also took effect on August 16, 2009. The ordinance prohibits all food providers in the City of Monterey from dispensing prepared food in packaging products that are not biodegradable, compostable or recyclable.
In an effort to encourage water conservation, the City's Public Works Department uses no mow turf for landscpaing. The turf is a fine fescue blend that has very low water requirements and doesn't need to be mowed.
The City of Monterey is well on its way to reducing the entire community's year 1990 greenhouse gas emissions levels by 7% by 2012 if the City continues ordinances and policies to protect the environment. In December 2009, Monterey is expected to release a Climate Action Plan that details the 2005 baseline GHG audits, establishes a reduction target and describes a strategy for achieving more reductions.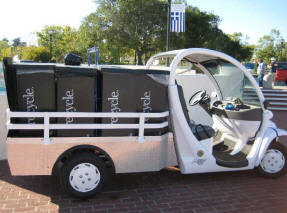 "Building green is one of the best strategies for meeting the challenge of climate change because the technology to make substantial reductions in energy and CO2 emissions already exists." - Chuck Della Sala, Mayor of Monterey
Green Actions:
Signed Climate Protection Agreement, 2007
Will debut finalized Climate Action Plan December 2009
Upgraded major facilities with energy-efficient lighting retrofits
Adopted a Green Building Ordinance, 2008
Replaced all street lights with LED lights
Uses B20 biodiesel in the City fleet and fire trucks, plus electric vehicles in the fleet
Implemented ban on Polystyrene, 2009
Environmental Benefits:
City building upgrades save 35% of energy and 40,000 kWh annually
City diverts 68% of its waste each year
Estimated Annual Cost Savings:
$197,000 from City building lighting retrofits
$40,000 from LED street light retrofits
Estimated Annual Greenhouse Gas Emission Reductions (in tons of CO2e):
1,000 tons from LED retrofits