Green L.A.: Climate Action Plan to Lead Nation
The City of Los Angeles is home to 4 million people living within 470 square miles. With that number of people constantly on the move, it's not surprising that nearly half of L.A.'s greenhouse gas (GHG) emissions come from transportation sources. But the City's geographic area and large population also offer opportunities for environmental benefits.
In May 2007, Los Angeles released "Green LA: An Action Plan to Lead the Nation in Fighting Global Warming." The City's goal is to reduce GHG emissions to 35% below 1990 levels by the year 2030. The Climate Action Plan focuses on reducing GHG emissions by increasing the use of renewable energy sources, implementing green building policies, diverting waste from landfills, greening the Port of L.A., and changing land use and transportation patterns to reduce dependence on automobiles.
Los Angeles is making strides to reduce emissions as the City emitted approximately 50.3 million metric tons (MMT) of CO2 in 2007, down 7% from 54.1 million metric tons in 1990. These emission reductions are saving the City over $70,000 a year.
What Actions Is Los Angeles Taking to Support Green Transportation?
L.A. is encouraging green transportation by making transit information easily available, expanding ride share programs, and promoting walking and bicycling to work. A City program called "Cops on Bikes" is anticipated to improve productivity, reduce air pollution, and save $350,000 in vehicle costs over 5 years. The City also invested in a fleet of alternative fuel vehicles that includes nearly half of the City's refuse collection trucks and street sweepers, all 188 DASH buses, and nearly 1,000 hybrid passenger cars, saving more than 10 million gallons of fuel annually. The conversion of City fleet vehicles to alternative fuels reduced CO2 emissions by 2,477 metric tons in 2008. The City's goal is to have all collection trucks and street sweepers converted by 2010.
What Actions Did Los Angeles Take to Save Energy?
In order to reduce energy usage in municipal operations, Los Angeles upgraded City-owned buildings and converted traffic signals to energy-efficient light-emitting diode (LED) lights, which has reduced an estimated 6,200 metric tons of CO2. Additionally, the City is increasing energy efficiency rebates for community residents and implementing a program to distribute two compact fluorescent lights (CFLs) to each of the 1.4 million households in the City. This program alone is anticipated to reduce 91,000 tons of GHG emissions annually.
What Actions Did Los Angeles Take to Cut Waste?
Los Angeles collects refuse, recyclables and yard waste from over 750,000 households, averaging 6,600 tons per day. Currently the City has a 62% solid waste diversion rate, the highest of any other large American city. Mayor Villaraigosa set a target to cut waste even more with plans to achieve a 70% garbage diversion rate goal by 2015.
What Action Did Los Angeles Take to Use Renewable Energy?
Since 2005, the Los Angeles Department of Water and Power (LADWP) has more than doubled its portfolio of renewable energy by purchasing wind, solar, and geothermal power. The goal is to generate 20% of its electricity from clean, renewable sources by 2010 and 35% by 2020. LADWP increased its percentage of renewable power by 3% between 2004 and 2008, reducing CO2 by an estimated 524,000 metric tons.
What Actions Did Los Angeles Take to Build Green?
On April 22, 2008, Los Angeles signed a Green Building Program into law. The adoption of comprehensive green building policies requires projects of 50,000 square feet or more and residential projects with 50 units or more to meet the intent of the U.S. Green Building Council's Leadership in Energy and Environmental Design certified standard. This program is expected to reduce the City's carbon emissions by more than 80,000 tons by 2012, or the equivalent of taking 15,000 cars off the road.
The City of Los Angeles calculates that between 1990 and 2007, the City reduced its CO2 emissions by 7%, despite an approximate 12.5% increase in the City's population. The City is on track to reaching its GHG emission reduction goal of 35% below 1990 levels by the year 2030.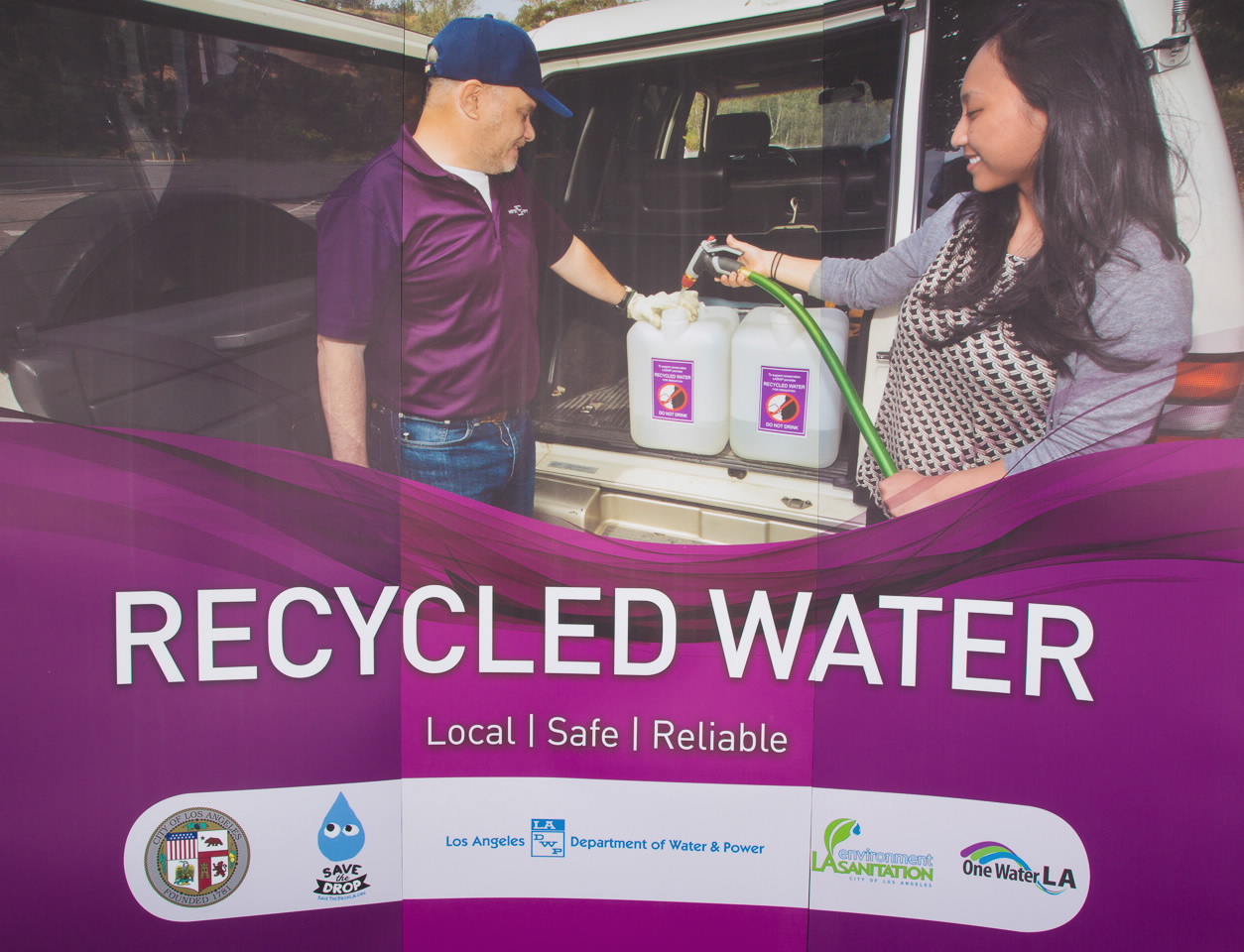 "Los Angeles is laying the foundation of a sustainable economy by investing in clean technology and green jobs." - Antonio Villaraigosa, Mayor of Los Angeles
Green Actions:
Greened power supply with renewable energy sources
Adopted comprehensive green building policies
Converted fleet vehicles to hybrid and alternative fuel vehicles
Implemented green at work programs including "Cops on Bikes"
Increased solid waste diversion
Environmental Benefits:
More than 10 million gallons of gasoline saved by green fleet vehicles
The City diverts 62% of its solid waste annually
Estimated Annual Cost Savings:
$70,000 from "Cops on Bikes" program
Estimated Annual Greenhouse Gas Emission Reductions (in metric tons of CO2e):
Actual/Measured
-2,477 from fleet vehicle conversions
-6,200 from upgrading municipal buildings and switching traffic signals to LED lights
Projected/Future
-80,000 from green building by 2012
-91,000 from home lighting retrofit program
-131,000 from renewable energy
Total GHG Savings
3.8 million metric tons (MMT) CO2e reduced between 1990 and 2007, a 7% reduction