City's Climate Action Plan Takes Shape
Hayward is known as the "Heart of the Bay" because of its central and convenient location in Alameda County – 25 miles southeast of San Francisco and 26 miles north of San Jose. With its central location, it's not suprising that 62% of the City's greenhouse gas (GHG) emissions come from transportation sources.
The City worked over a year to prepare a community-wide Climate Action Plan. The Plan aims to reduce GHG emissions by 6% below 2005 levels by 2013, 12.5% below 2005 levels by 2020, and 82.5% below 2005 levels by 2050.
The City of Hayward is taking steps to reduce GHG emissions on several fronts including: adoption of a green building ordinance in December 2008, adoption of Environmentally Friendly Landscape Guidelines in March 2009, enforcement of a water efficient landscape ordinance, and certification of the City's Fleet Management Division as a Green Business.
Hayward is in the early stages of implementing the Climate Action Plan. However, the City has already installed a rooftop photovoltaic system at a Public Works facility and upgraded HVAC systems in City buildings. In addition, the City aims to increase waste reduction and recycling programs.
What Actions Is Hayward Taking to Engage a Climate Action Plan?
In 2006, the City joined the Alameda County Climate Protection Project and ICLEI's Cities for Climate Protection Campaign. During that year, the City and ICLEI completed a baseline greenhouse gas (GHG) inventory using the year 2005 for the baseline. After drafting a preliminary list of GHG-reducing actions, City staff presented the actions to several community groups during the Fall of 2008. Meaningful feedback was collected and actions were prioritized by calculating an overall score for each action. The draft Climate Action Plan was presented to the community in March 2009 at public meetings. The final Climate Action Plan and current city initiatives can be viewed on their Green Hayward website.
What Actions Is Hayward Taking to Support Green Transportation?
The City goal is to reduce vehicle miles traveled by encouraging residents and employees to use alternative modes of transit by improving the effectiveness of the transportation circulation
system and through land-use and zoning mechanisms. This includes ride sharing programs, subsidized transit passes, and locating employment near transit and activity centers; institutional policies and programs; and governmental policies, programs, guidelines, and standards, such as municipal transit policies and zoning code standards that cap the maximum rather than minimum number of parking requirements. These actions will result in an annual emissions savings of approximately 14,100 metric tons of CO2e by 2020.
The City fleet is made up of 418 vehicles, out of which 12 are hybrids, 24 are Flex-Fuel (E-85), 6 are CNG natural gas vehicles, and 1 is a ZEV electric cart. The City's procurement guidelines encourage small vehicles and alternative fuels.
What Actions Is Hayward Taking to Build Green and Conserve Water?
The City implemented a green building ordinance in 2008 that requires all non‐residential projects of 1,000 square feet or more to show compliance for an overall energy budget of 5% below 2008 Title 24 Building Energy Efficiency Standards. The Green Building Ordinance requires these projects to reduce indoor water use by 20% below baseline, per 2007 California Plumbing Code, for each toilet or urinal replaced or installed. The City is looking into "cool roof" roofing materials and recycled content products to further energy savings in City buildings.
The City of Hayward anticipates a solid Climate Action Plan by July 2009. The City aims to reduce GHG emissions by 12.5% below 2005 levels by 2020. If Hayward meets this target, the City will have prevented 154,642 metric tons CO2e from being emitted into the atmosphere.
To learn more about Hayward's efforts to "go green" and ways the city is helping it's residents and businesses go green visit their Green Hayward website today!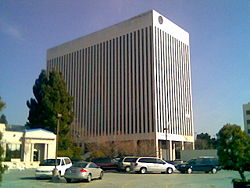 The Hayward City Center (shown above) is a mixed-use remodel project that has received LEED CS pre-certification at the Gold Level.
Green Actions:
Adopted a Climate Action Plan, July 2009
Completed a baseline GHG inventory, 2006
Implemented a Green Building Ordinance, 2008
Reducing vehicle miles traveled
Enforcing a water efficient landscape ordinance
Certified City's Fleet Management Division as a Green Business
Increasing the use of renewable energy
Installed a photovoltaic (PV) system on Public Works rooftop
Environmental Benefits by 2020:
Reduce CO2e emissions from 28,323 cars driving for one year
Reduce CO2e emissions from electricity use of 20,482 homes for a year
Reduce CO2e emissions from burning 808 railcars worth of coal
Reduce the carbon sequestered annually from 35,146 acres of pine or fir forest
Total Estimated Greenhouse Gas Reductions By 2020:
154,642 metric tons of CO2e