City's Plan Actively Reduces Emissions
The City of Arcata, home to Humboldt State University, includes one of the only municipally owned forests in the nation. The Arcata Community Forest was certified as sustainable by the Forest Stewardship Council in 1998 and is a model for sustained yield forestry. The City has long been a supporter of environmental consciousness and again took action on climate change in 2001 when the mayor signed onto the "Cities for Climate Protection" campaign.
The City completed its baseline greenhouse gas inventory with the help of Local Governments for Sustainability (ICLEI) in 2003, and began a multi-year process to develop a climate action plan. The resulting Greenhouse Gas Reduction Plan outlines a reduction target of 20% below 2000 levels by the year 2010.
The City's Plan focuses on six action areas: energy efficiency, renewable energy, sustainable transportation, waste and consumption reduction, carbon sequestration and other methods, and cross-cutting approaches.
Arcata is making strides to reduce emissions as the City reduced 7,370 metric tons of CO2 in the community between 2000 and 2006.
What Actions Is Arcata Taking to Save Energy?
Through a loan from the California Energy Commission, the City performed major lighting retrofits, saving an average of 20% of energy usage in the renovated facilities and helping to avoid over $14,000 a year in energy costs. The Redwood Coast Energy Authority (RCEA) replaced thousands of light bulbs in the City with compact fluorescent bulbs, achieving an estimated energy savings of 214,000 kilowatt hours and 75 metric tons of CO2.
What Actions Is Arcata Taking to Use Solar Energy?
The City purchased a 10 kilowatt photovoltaic (PV) system for City Hall, reducing over 13,000 kilowatt hours and saving $2,000 a year. Combined with the City's major lighting retrofits, these strategies avoid nearly 15 metric tons of CO2 emissions per year. The City continues to add photovoltaic capacity and currently has a 13 kilowatt system installed. The City also hosts a Solar Neighborhoods Tour which helps raise community awareness.
What Actions Is Arcata Taking to Conserve Water?
The City is working to address energy consumption in the water sector, through improving water pump motors to premium efficiency and selecting variable frequency drives where appropriate. A capital improvements plan has been put into effect to upgrade existing infrastructure, largely responsible for water infiltration into the system and increased pumping.
What Actions Is Arcata Taking to Support Green Transportation?
The City purchased and leased energy-efficient vehicles for its fleet, including three Toyota Prius hybrid vehicles, one Honda hybrid, three compressed natural gas pick-ups, four GEMS electric vehicles for meter readers and the wastewater treatment plant, and four Nissan HyperMini electric vehicles for parking meter readers. Biodiesel fuel is used in the street paving machine and there is a City-sponsored electric vehicle charging station downtown.
How Did Arcata Use the Forest to Develop Carbon Offsets?
The City has become the first municipality in the nation to contract for the sale of Forest carbon offsets. The project will be registered and verified according to the rigorous Climate Action Reserve protocols. The revenue from this sale will be used to decrease logging activities and allow tree stands to reach an older age.
"The City of Arcata is proud to be the first municipal entity in California to sell offsets," said City of Arcata Mayor Mark Wheetley. "As the smallest city in the state with a Greenhouse Gas Reduction Plan, our hope is to demonstrate leadership for others to soon follow."
This project supports the City of Arcata approach to forest management and serves as a viable stewardship model whereby sequestering large amounts of carbon also provides critical benefits such as restoring forest biodiversity, improving water quality and enhancing recreational assets within our community. The City anticipates generating a minimum of 40,000 metric tons of Verified Emission Reductions (VERs) through this project.
The City of Arcata has made great strides in its goal to reduce GHG emissions 20% below 2000 levels by the year 2010.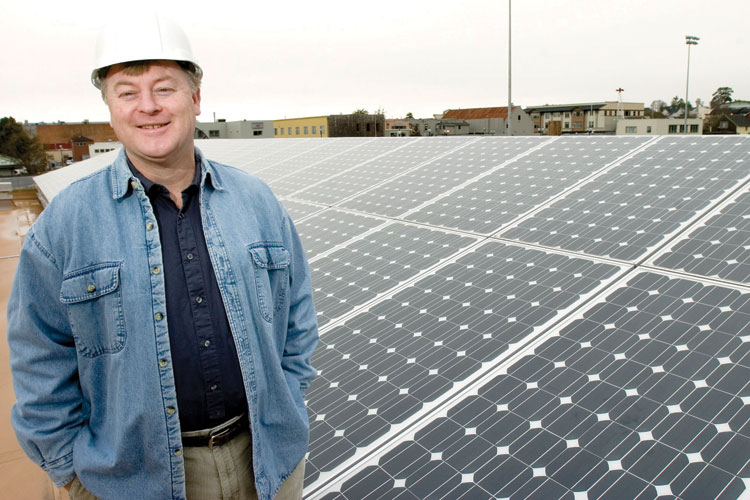 "We are investing in our future today through our greenhouse gas reduction strategy, and we will continue to increase building efficiencies, install renewable energy improvements and search for other innovative options." - Mayor Mark Wheetley, Mayor of Arcata
Green Actions:
Greenhouse Gas Reduction Plan, 2006
Retrofitted City facilities with energy-efficient lighting
Installed photovolataic (PV) systems in both residential and municipal buildings
Purchases renewable energy from local utility
Created a City-sponsored electric vehicle charging station
Purchased hybrid vehicles for City fleet
Environmental Benefits:
Community outreach programs and annual campaigns educate residents about climate change and the impact on the environment
City acquired 2,100 acres of coastal redwood forestlands that actively sequester carbon emissions and counteract climate change
Estimated Annual Cost Savings:
$16,000 from City Hall PV system and energy-efficient lighting retrofits to City facilities
Estimated Annual Greenhouse Gas Emission Reductions:
1,053 metric tons of CO2 from total community